Chasing raptors at Long Beach, WA
Having already been on three raptor surveys, I was thrilled to be invited for a fourth. Unfortunately, the last time Dan Varland, director of Coastal Raptors, asked me to go, the forecast called for gale force winds. My toupee is only rated for 15 mph, so we had to reschedule or resort to staples. I chose the former. But this time the stars lined up in grand fashion for a memorable two days on the Washington coast.
The best thing about Dan's surveys is meeting the other volunteers. I've met some truly wonderful people and this time was no exception. Dan enlisted a father and son, Mike and Luke Smith of LS Traps. They capture birds at SEATAC airport and relocate them to somewhere safer. Generally I avoid airports and their general vicinity like Adam Sandler movies, but this is not so for raptors. I know what you're thinking. Birds are the last creatures on Earth that need an airplane. True. But airports are ideal hunting grounds for falcons, eagles and hawks. These apex predators find the tables turned and frequently become the unwitting prey of jet engines. Which, believe it or not, is worse than an Adam Sandler movie. A sobering fact.
Also joining us was photographer Gerrit Vyn and his girlfriend Shannon, a marine eco-biologist. Gerrit Vyn. Now, why do I recognize that name? One Google search later and the reason became evident. Gerrit's book The Living Bird is sitting on my coffee table. Mercy sakes! Gerrit is one of the world's leading wildlife photographers and works for the Cornell Lab of Ornithology. (Whoever they are?) Gerrit is also a passionate conservationist, a terrific writer and an all-around swell guy.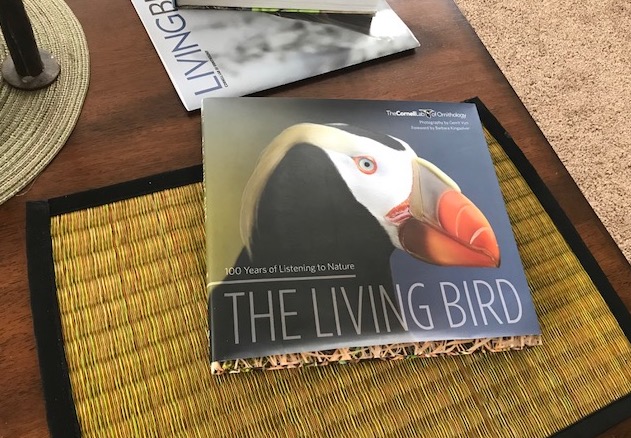 By Gerrit Vyn
and the Cornell Lab of Ornithology
Next Dan told me he'd arranged for us to stay at The George Johnson House, a B&B in Ocean Park, WA. The GJH is a magnificent 100 year old home owned by the deeply generous, formidable and charming Charlotte Killien. We would be spoiled by a decadent breakfast and one anothers delightful company for the next two mornings. Charlotte also reattached a button to my old Pendelton wool shirt. Full service!
And now for the icing on the icing, the forecast called for TWO SUNNY DAYS at the Washington coast in early March. Jackpot! We arrived late Tuesday afternoon and headed out to beach to see what we could find and catch some birds, if not, maybe just the sunset.
Spotted by eagle-eye Mike Smith from over a hundred yards away. I was thrilled to just see a Merlin, but Mike, who has spent a lifetime among the birds was like, "that fella up yonder could use a talon trim." Then Luke told the Merlin to sit still for a picture, and he obliged. These guys are true bird whisperers!
Ladies and gentlemen, I present the glorious Pacific Northwest.
Wednesday. After an amazing breakfast, we got out to beach to begin our survey. We have two goals when conducting these surveys as we drive the length of the Long Beach Peninsula. One: count raptors. We saw myriad Bald Eagles, both juveniles and adults. One Northern Harrier. A Merlin or two. And of course Peregrine Falcons, which brings us to Goal Number Two: trapping and banding Peregrine Falcons! This work is very important to the resurgent Peregrine population. Read all about Coastal Raptors important work and consider making a donation.
On the beach we mostly find scavengers. This guy was trying to sell me "gently used" crab legs. We passed.
Our national bird is the biggest and baddest raptor in the U.S. They are pragmatic when it comes to finding dinner. Sometimes they hunt. Sometimes they steal the fish of someone else's labor. Sometimes they'll fight one another over a seal corpse. Honestly.
Above: Teenagers cleaning up the leftovers. Below: Mother hoarding fresh crab.
Near the end of our second day we finally spotted a murmuration of Dunlins under attack from a pair of Peregrines. Quick! Get into position! Everyone has a job to do. Mine is to stay out of the way. And take pictures.
A Murmuration of Dunlins. Not to be confused with a Confederacy of Dunces.
One of the two falcons was banded "W6" and was originally trapped and banded on October 31, 2014 by Coastal Raptors. Before today, "W6" had been spotted (and photographed) only once. You can find out more details about this and other surveys at Notes from the Field on The Coastal Raptors website.
Time is of the essence when setting the falcon traps. Dan was clocked at an impressive 49 mph on his mad scientist's dash.
This is the mate of "W6". We were unable to capture either of these beautiful birds. Just as well, this time. We had a lovely time watching them do their thing and marveling at their athleticism and grace. Even if they are a little bit surly at at times.
If you think I'm fast when chasing Dunlins, wait until you see how fast I hit you with a cease and desist order if you so much as think of putting me in some corn ball 2019 "Conversations with Birds" Calendar.
This trip we had a special third goal, the pickin' part of "Pickin' an' a-Peregrinin'". Three: to record "Band on the Bird". When Dan and I spoke at BirdFest and Bluegrass in Ridgefield, WA last October, we rewrote and performed a song parody of the classic Paul McCartney song to help spread the word among birders about the importance of reporting banded birds to the bird banding lab. Reporting a banded bird is how I met Dan back in 2016, but that's another story. Gerrit was kind enough to record the effort.
Thanks again to all these wonderful people and especially to Dan Varland for getting us all together.